Where do the birds go? Audubon's New 'Explorer' Tool Provides Clearest Picture Yet of Species' Epic Journeys | Chicago News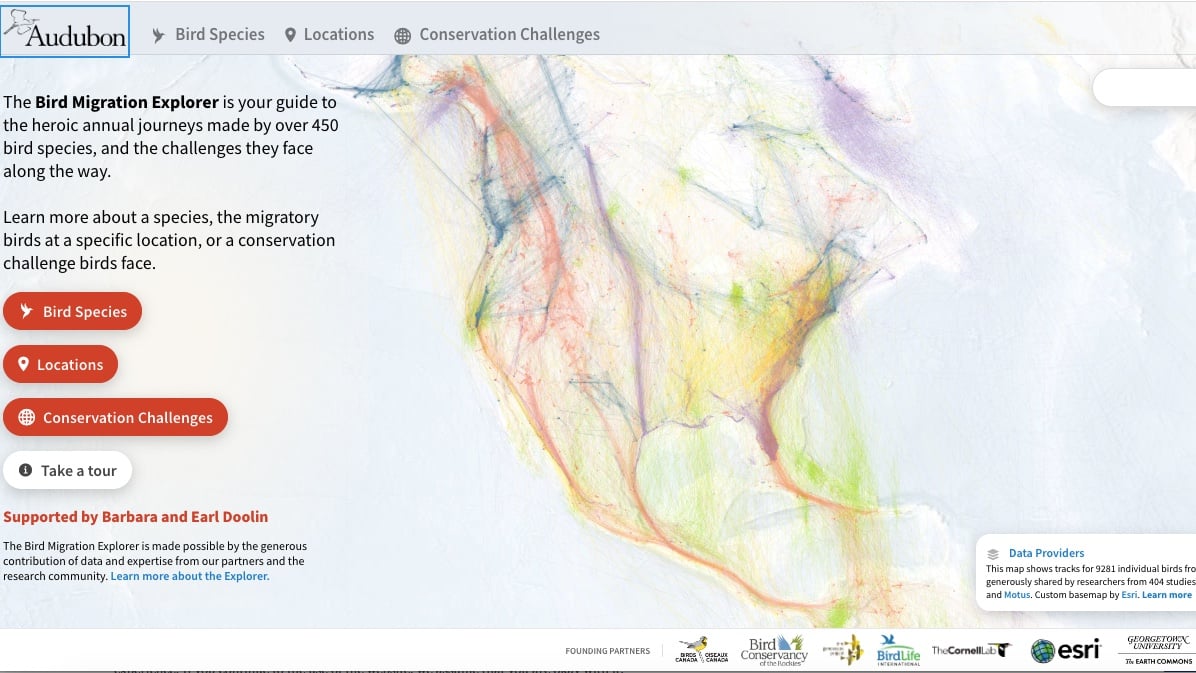 Audubon's Explorer Platform illustrates the flyways of migratory birds in North America. (WTTW News)

It's a question that intrigues and baffles everyone, from toddlers to postdoctoral researchers: Where do the birds go?
The Bird Migration Explorera new interactive digital platform launched Thursday by the National Audubon Society, provides the clearest answer yet, just in time for the fall migration season.
Developed by Audubon in conjunction with nine partner organizations, Explorer consolidates data that once existed in hundreds of scattered pockets and brings it to life in visually spectacular ways.
Users can plot popular flyways, track the movements of over 450 individual species, and learn about the conservation challenges birds face along their routes. One of Explorer's most impressive features is a tool that shows the point-to-point connections that birds make between locations in the Western Hemisphere.
Pick a city like Chicago and watch the rays radiate out from the hub, looking a lot like an airline's road map, but showing infinitely more flights.
"It (Explorer) brings together puzzle pieces of different elements of migration science," said conservation ecologist Jill Deppe, senior director of Audubon's Migratory Birds Initiative. "We look holistically at the needs of birds and place local actions in a hemispheric context, creating a sense of connection between distant places."
Take the black warbler, for example.
A typical bird range map largely shows its wintering ranges extending into northern South America, its migration taking place over half of the continental United States, and its breeding ranges covering nearly all of Canada and Alaska.
Explorer's deep data sink allows users to zoom in with greater precision. Tracking devices located the blackpoll at a sanctuary in Venezuela, then a migratory stopover in Chicago, and finally a summer nesting home in the National Petroleum Reserve – Alaska.
These connections underscore the need for cooperative conservation efforts between people, organizations and governments that touch the places birds use at every stage of their journey.
"What happens in the Arctic is going to impact the birds of Chicago," Deppe said.
There is a sense of urgency for the launch of Explorer, given the report 2019 that North America has lost 3 billion — or 30% — of its birds since 1970. Of the missing, 2.5 billion were migratory birds, according to Deppe.
"We did a lot of conservation and we still lost a lot," she said.
One exception, she noted, was waterfowl, a group whose numbers have actually increased. Deppe attributed the waterfowl's success to the collective and collaborative approach to protecting wetlands.
"It's a good example to point to the hemisphere," she said. "It's about making those connections and asking, 'How can we work together?'"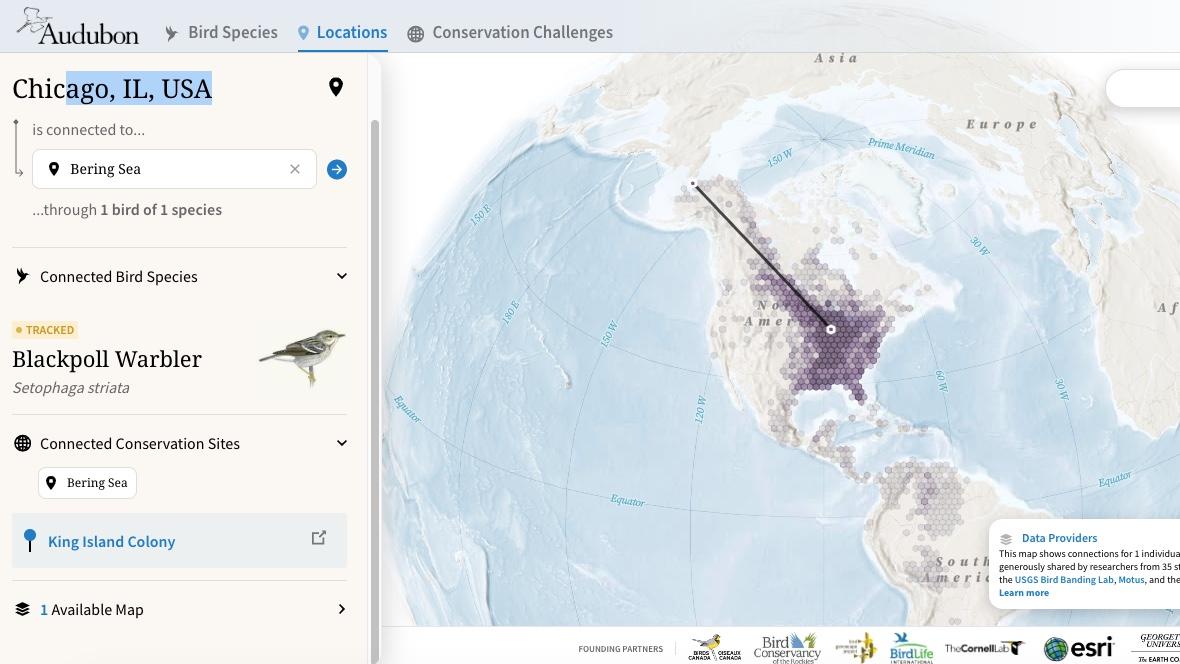 Point-to-point Explorer functionality: The little black warbler connects Chicago to the Arctic. (WTTW News)

One of the barriers to making those connections was the once-siloed nature of the information Explorer collected and now shares.
Stephanie Beilke, senior director of conservation science at Audubon Great Lakes, is among the researchers whose data has been incorporated into Explorer.
She always knew, she says, that a huge pool of data existed, but much of it was inaccessible. "You couldn't get it unless you knew who was doing the research and how to contact them," Beilke said.
Members of Deppe's team have made it their mission to comb through the scientific literature for projects involving tracking migratory birds. They spent years working on the phones and getting permission from data holders like Beilke — nearly 300 researchers and institutions in total.
Above the science are sightings uploaded by ordinary people to the eBird platform. These millions of sightings fulfill Explorer's "abundance" function, which describes the number of bird species present at a location at different times of the year.
"When people see these cards, they see themselves as a contribution," Deppe said.
Deppe expects Explorer to appeal to a variety of audiences, from birdwatchers and "curious birds" — all the people who have fallen in love with our feathered friends during the pandemic — to advocacy organizations, who will find the Explorer mapping useful for identifying where to focus attention on conservation and preservation.
The site also has the potential to unlock additional migration-related discoveries.
"It's not everyday that we get a tool like this," Beilke said.
While the bird lover in her has enjoyed browsing Explore and watching each bird's journeys, she said, the researcher in her is enthusiastic about the amount of work the site puts in, putting all the results of those hundreds of previous studies at your fingertips.
"If I'm interested in filling a research gap, we can see what's been done," Beilke said. "I want to know where there are needs in the Great Lakes. Are there species of concern that we need to monitor? »
According to Explorer, at least 136 species have some sort of connection to Chicago, which is raw material for scientific research. Could the region support more? Conversely, if the number goes down, have we done something wrong or does the blame lie elsewhere?
These are the types of questions Explorer raises for researchers to investigate, Beilke said.
While the launch of Explorer represents the culmination of years of development, that work is by no means finished, Deppe said.
Creating a better experience for mobile users is a top priority, she said. In recognition of the project partners in Canada and Brazil, Deppe would also like to see the site translated into French and Portuguese, to complement the current English and Spanish versions.
It goes without saying that Explorer will be continuously updated as new data becomes available.
"We are on the border," Deppe said. "Migration is the last frontier."
Contact Patty Wetli: @pattywetli | (773) 509-5623 | [email protected]